The Teaching and Research Winery
The 12,500-square-foot winery includes a large experimental fermentation area with 152 200-liter research fermentation tanks and 14 2,000-liter fermentation tanks. There are three controlled-temperature rooms, barrel and bottle cellars, an analytical lab, a classroom and a special bottle cellar for donated wines. The winery is used for research and teaching and for courses for professionals.
The building enables students to learn both the principles and the practical applications of sustainability, said Andrew Waterhouse, a professor and chemist in the Department of Viticulture and Enology, and the John E. Kinsella chair in food, nutrition and health.
Precision metering and control systems necessary for sustainable processing are also critical for moving winemaking to the next level of excellence, he stressed. "Fine wines are the result of an intricate mix of environmental and processing factors," Waterhouse said. "If we are to better understand how environmental factors, such as sunlight levels in the vineyard, impact the subtle aspects of wine quality, we need to be able to very precisely control the winemaking process. The winery equips us to do just that."
The Jess S. Jackson Sustainable Winery Building
The Jess S. Jackson Sustainable Winery Building contains the technology needed to maximize the environmental capabilities of the adjacent winery, brewery, and food-processing complex. It includes an automated system to clean barrels, tanks, and fermentors. The building includes 10 dedicated, modular spaces that contain equipment for various processes, including high-purity filtration of rainwater that is used for cleaning fermentors and barrels in the winery. Ninety percent of the water and chemicals from each winery cleaning cycle are captured and processed for repeated use—some as many as 10 times.
In addition, the building sequesters carbon dioxide captured from the fermentations in the winery and converts it into calcium carbonate—chalk—which are given to a plasterboard company. The building also produces chilled water using an icemaker powered by electricity from solar panels. The winery is equipped to generate hydrogen gas by electrolysis, which produces nighttime energy using a hydrogen fuel cell.
The winery, brewery, and food-processing complex was financed entirely with private donations. A previous gift by Jackson and Banke helped lift its green building certification to LEED Platinum, the highest such designation in the United States and the first winery to be LEED Platinum.
One room in the building houses the control system and data hub for the many processing systems, and two rooms are used for research projects and equipment trials related to water and energy use in sustainable systems. "The building is designed so that each of these systems can be removed and replaced with a newer model, making it an evolving test-bed and demonstration site," said Professor Roger Boulton, a winery engineering expert and the Stephen Sinclair Scott Endowed Chair in Enology at UC Davis. He noted that the building's control and data system monitor and display the water, energy, carbon and chemistry footprints in real time, and manage the operation of all utilities and the building environment.
The Brewery
The new brewery is part of the 11,500-square-foot August A. Busch III Brewing and Food Science Laboratory. The brewery has been designated LEED Platinum, meeting the highest environmental standards of the Green Building Council.
It is an authentic, reduced-scale facility, similar in size to smaller commercial brewing operations. Equipment for the 1.5-barrel–capacity brewery, updated in 2006, was relocated from Cruess Hall in 2010.
"The new facility will allow us to showcase the importance of beer and brewing as a complex, sophisticated process, as well as the important role that UC Davis plays in the brewing industry," said Charlie Bamforth, Anheuser-Busch Endowed Professor of Malting and Brewing in the Department of Food Science and Technology.
"We hope that it will be a facility that can be used by commercial brewers and suppliers to test out new recipes or processes in small-scale batches," he adds.
The California Processing Tomato Industry Pilot Plant
The lab is part of the overall 11,500-square-foot August A. Busch III Brewing and Food Science Laboratory. The California Processing Tomato Industry Pilot Plant handles a broad spectrum of food products, including tomatoes, olives, peaches, prunes and more. The facility's milk processing laboratory is flexible enough for teaching and research on traditional dairy food products, as well as research on milk components that have potential for improving health, immune function, and cognition.
"One of the extraordinary features of the entire facility is that both the general food-processing pilot plant and the milk-processing laboratory are designed and constructed for food-grade and dairy-grade processing, respectively," said Professor Emeritus John Krochta. "That means that we will actually be able to provide samples of the foods and milk-based products that are processed here for sensory or nutritional evaluation."
"The facility provides a unique opportunity for faculty and students to partner with industry in exploring new technologies, emphasizing those that are sustainable from both food-supply and environmental viewpoints," said Jim Seiber, former chair of the Department of Food Science and Technology.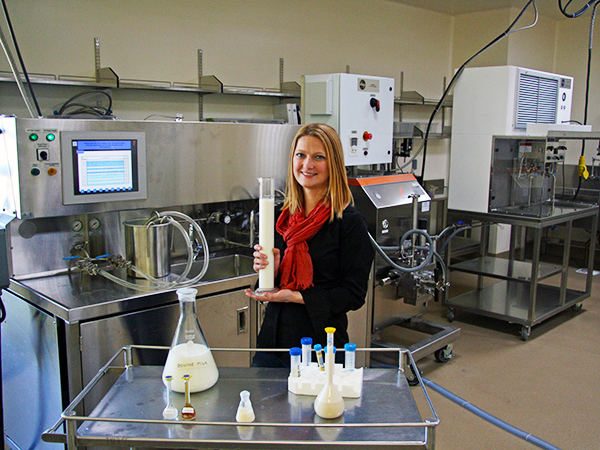 The Milk Processing Lab
The Milk Processing Laboratory is part of the overall 11,500-square-foot August A. Busch III Brewing and Food Science Laboratory.
Features include dairy-grade floor, walls, and ceilings; eight utility stations with chilled and hot water, culinary steam, and broad electrical capability; an advanced milk lab air filtering system; and isolated drainage. Equipment includes raw milk cooling tank, milk separator, milk pasteurizer, milk homogenizer, ultraclean milk filler, and a membrane separation system.
The laboratory has been carefully designed to focus on flexibility in teaching and research. This enables UC Davis to complement the milk processing facilities at Cal Poly, San Luis Obispo to better serve the state's dairy industry. Areas of research include separation of milk components into functional ingredients, processing feed-modified milk, and processing of milk from genetically selected cows. The laboratory also allows for hands-on student and industry training.